Water Coold Screw Industrial Water Chiller Supplier
December 02, 2020
Model NO.: CSW-65/75/85

Application Fields: Plastic

Application Machine: Precision Machine Tool

Certification: CE

Condition: New

Compressor: Bitzer/Hanbell

Refrigerant: R22 or R407c /R134A/R410A

Power Supply Voltage: 3pH 220V/380V /415V /460V 50Hz/60Hz

Applied Industries: Plastic Machinery/Chemical /Pharmacy Industries

Warranty: Two Year

Control Method: Simens PLC

Trademark: COOLSOON

Transport Package: Plywood Package

Specification: CSW-60/75/85

Origin: China

HS Code: 8418692090

CSW Series Water Cooled Screw  Water Chiller

COOLSOON screw type chiller adopt the international famous branded screw type compressor , and equip with the high efficient copper as condenser , evaporator and famous branded control components, which make the chiller unit feather as compact size, low noise and vibration , high cooling capacity, easy operate and long service life.

Compressor features:

*The new type international brand high efficiency screw type compressor, which is 20%-30% high efficient than normal compressor.

*The cooling capacity control take the four steps (100%-75%-50%-25% )or three steps (100%-66%-33%)or no steps control system.

*High efficiency, low noise and vibration, the unit no need any anti -vibration measures and easy to install.

*It can take the other environmental protection refrigerant R134A, R407C, R410A except the R22.

The Control Panel System

*The German brand SIEMENS PLC program control system , human-computer interface with big LED touch screen , can make the dialogue between man and machine. Multi-language display  the working condition of the machine, and self-diagnosis function can detect the machine fault automatically, which is convenient for the worker to operate and supervise the machine.

*Â It can connect the external industrial interface ,which is convenient to acheive the computer monitor by intelligent network control.

Safety Protection Function

*High and Low pressure , compressor overheating , overloading, over temperature , flow switch, phase sequence, phase-missing, exhaust overheating, anti-freezing and multiple safety protection to guarantee the machine in a safe and stable operation.

It should equip with the big cooling tower to keep a good ventilation of chiller unit.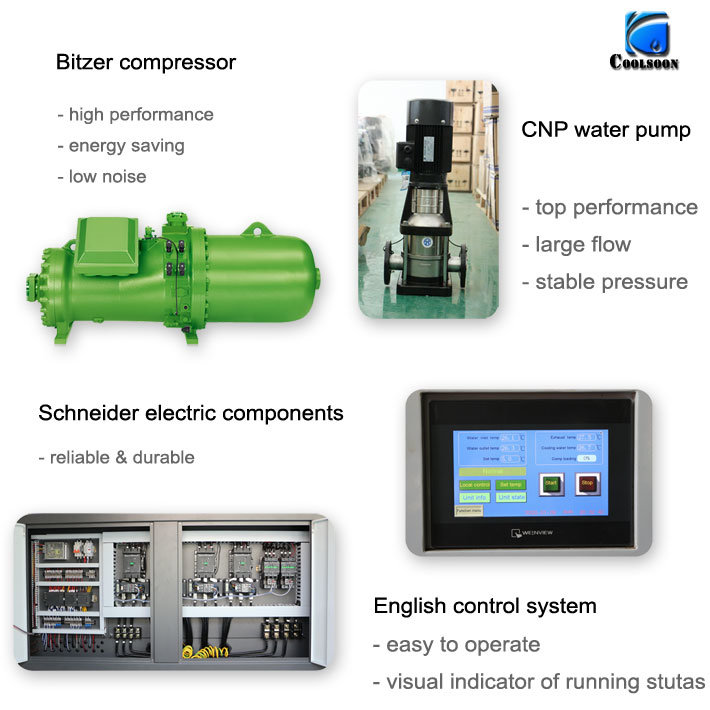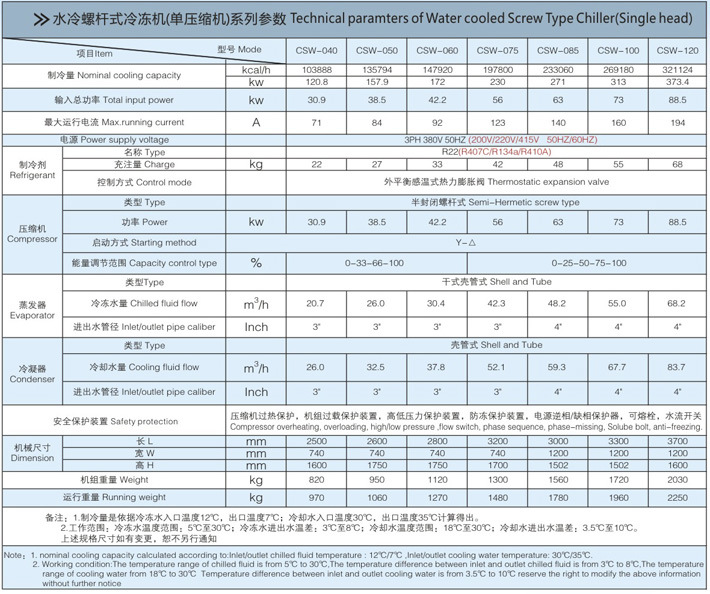 Engine Parts
Cylinder head, body, oil pan, etc.
Crank and connecting rod mechanism: piston, connecting rod, crankshaft, connecting rod bush, crankshaft bush, piston ring, etc.
Gas distribution mechanism: camshaft, intake valve, exhaust valve, rocker arm, rocker shaft, tappet, push rod, etc.
Intake system: air filter, throttle, intake resonator, intake manifold, etc.
Exhaust system: ternary catalyst, exhaust manifold, exhaust pipe
Drivetrain accessories
Flywheel, pressure plate, clutch plate, transmission, gear shift control mechanism, transmission shaft (universal joint), wheel hub, etc.
Brake accessories
Brake master cylinder, brake cylinder, vacuum booster, brake pedal assembly, brake disc, brake drum, brake pad, brake hose, ABS pump, etc.
Steering accessories
Steering knuckle, steering gear, steering column, steering wheel, steering rod, etc.
Driving system accessories
Steel ring, tire
Hanging
Front axle, rear axle, swing arm, ball head, shock absorber, coil spring, etc.
Ignition system accessories
Spark plug, high voltage wire, ignition coil, ignition switch, ignition module, etc.
Fuel system accessories
Fuel pump, fuel pipe, fuel filter, fuel injection nozzle, oil pressure regulator, fuel tank, etc.
Cooling system accessories
Water pump, water pipe, radiator (water tank), radiator fan
Lubrication accessories
Oil pump, oil filter, oil pressure sensor
Electrical instrument accessories
Sensors, PUW vent valves, lamps, ECUs, switches, air conditioners, wiring harnesses, fuses, motors, relays, horns, actuators
Lamps Decorative lights, anti-fog lights, indoor lights, headlights, front turn signals, side turn signals, rear combination lights, license plate lights, various types of light bulbs
Switch
Combination switch, glass lifting switch, temperature control switch, etc.
Air conditioner
Compressor, condenser, drying bottle, air conditioning tube, evaporation box, blower, air conditioning fan
Sensors
Water temperature sensor, intake air pressure sensor, intake air temperature sensor, air flow meter, oil pressure sensor, oxygen sensor, knock sensor, etc.
Body accessories
Bumpers, doors, fenders, windshields, pillars, seats, center consoles, engine covers, trunk covers, sunroofs, roofs, door locks, armrests, floors, thresholds, etc.
Other accessories: airbags, seat belts, etc.
Engine system, transmission system, walking system, braking system, steering system, electrical body, cab and car accessories


Commercial Vehicle Spare Parts,Car Vehicle Parts,Commercial Vehicle Accessories,Commercial Vehicles Brake Pad

Zhengzhou Dongfeng Mid-south Enterprise Co., Ltd. , https://www.cn-dfmtruck.com